This foundation course provides an informed understanding of the mental and physical health benefits of the Aerial Hammock, the neurobiology of trauma and pain, and the role of creativity and flow-state experiences in healing. This course allows entry to participate in part or all of the 150hr postgraduate course launching Feb 2020 that will offer speciality modules co-facilitated with clinical experts in the fields of yoga therapy, psychology, physical rehab, traumatology and occupational therapy.
The Creativebodyflow approach to Aerial Hammock Therapeutics is trauma-informed and incorporates creativity and mindful movement to initiate flowstate experiences known for enhancing qualitative experiences of well-being. It focuses on a strengths-based, trauma-informed recovery model that aims to empower people with self-management strategies for enhancing resilience and alleviating the psychosomatic symptoms of physical or emotional trauma.
This course is designed for professionals in the physical health and mental health fields seeking to harness the therapeutic power of Aerial Hammock Therapeutics into their practice. This course introduces the theoretical foundations for the complete applied aerial therapeutics postgraduate course, and provides the opportunity to gain a personal experiential perspective on the unique healing qualities of the aerial hammock.
What will I learn in this course?
This course will provide foundational knowledge in a theoretical and experiential format of these key areas:
The creativebodyflow approach to Aerial Hammock Therapeutics which integrates the psychobiological processes of creativity, flow state experiences and sensory integration
The therapeutic qualities and attributes of the aerial hammock including those that may influence the participant's positive experience and engagement in treatment.
Steps to trauma recovery and the role of the body
Principals of yoga therapy including how to elicit the relaxation response and promote parasympathetic functioning
Neurobiological understanding of trauma and the relationship to chronic pain
Frameworks for understanding stages of physical rehabilitation, including the contributing mental health factors in healing
*This foundational workshop is prerequisite to complete the 150hr Applied Aerial Hammock Therapeutics Post Graduate program.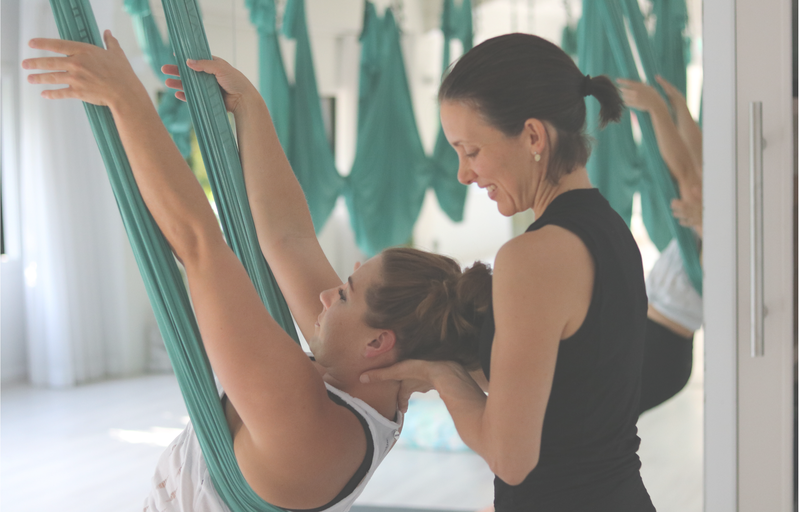 Why use an Aerial apparatus in a therapeutic setting?
Aerial Hammock Therapeutics is a single-apparatus based mind-body exercise that aligns with progressive exercise-based rehabilitaion and trauma-informed frameworks.
Aerial Hammock Therapeutic interventions are currently being adapted into clinical physiotherapy practice in Australia and mental health services and are showing promising results. The aerial hammock is known to provide restorative benefits of zero-compression inversions, is thought to enhance 3-dimensional spatial awareness and sensory integration, and can elicit a relaxation response through sensations of being 'cradled' As a physical health modality, focus can be placed on integrative movements that condition muscle tone with the use of perturbation and also reduce muscle tension using gravity assisted mobility and traction. As a body-based mental health modality this apparatus is adaptable into a neurosequential model of therapeutics for retraining interrupted developmental processes and can assisting the process of trauma recovery by providing somatic experiences that enhance sensory information processing, centre the practitioner in the present moment, empower the individual to self regulate and elicit the relaxation response.
Who is this training for?
Physical health, mental health and occupational health professionals
Aerial yoga/Yoga/Pilates instructors
About Renae Stevens
Polestar Studio Rehab Instructor
Antigravity Master Instructor
Franklin Method Educator
Senior Yoga Teacher
Registered Yoga Therapist
Registered Mental Health professional (Art Therapy)
Renae holds a master's degree in Mental Health and is a registered Art Therapist experienced in trauma recovery. Renae is recognized by Yoga Australia as a Senior Yoga Teacher with 20 years of teaching experience. Her foundational years of study involved completing a full-time 3-year training specialized in Yoga Therapy at the Yoga Arts Academy in Melbourne, Circus Arts training in Beijing and Physiotherapy foundation studies in anatomy and physiology at the University of Queensland.
Renae has continued to diversify her skills in the movement healing arts over the last decade and is also certified as an AntiGravity Master Instructor trainer, Polestar Pilates Studio Rehab instructor and Franklin Method Movement Educator.
Renae is a passionate advocate on the benefits of a multimodal therapeutic approach combining the creative and movement arts therapies and seeks to share these powerful tools with those interesting in healing themselves and others.